Q. When will my product ship ?
A. Orders generally ship in 1 to 3 days after they are received. Some orders take up to a week to ship; some orders ship the same day they are received. Every effort is made to ship as soon as possible upon receipt of your order. There is generally only one shipping option available at checkout which is via Priority Shipping by the US Postal Service. The delivery time noted in the USPS shipping cost is from the time of shipment, and does not include the time to process the order. International orders and domestic orders weighing less than 13 ounces will have additional option of First Class Shipping. If you require UPS shipping, please email that information to [email protected].
Q. What is the difference between Standard and NOLS-Style Lids?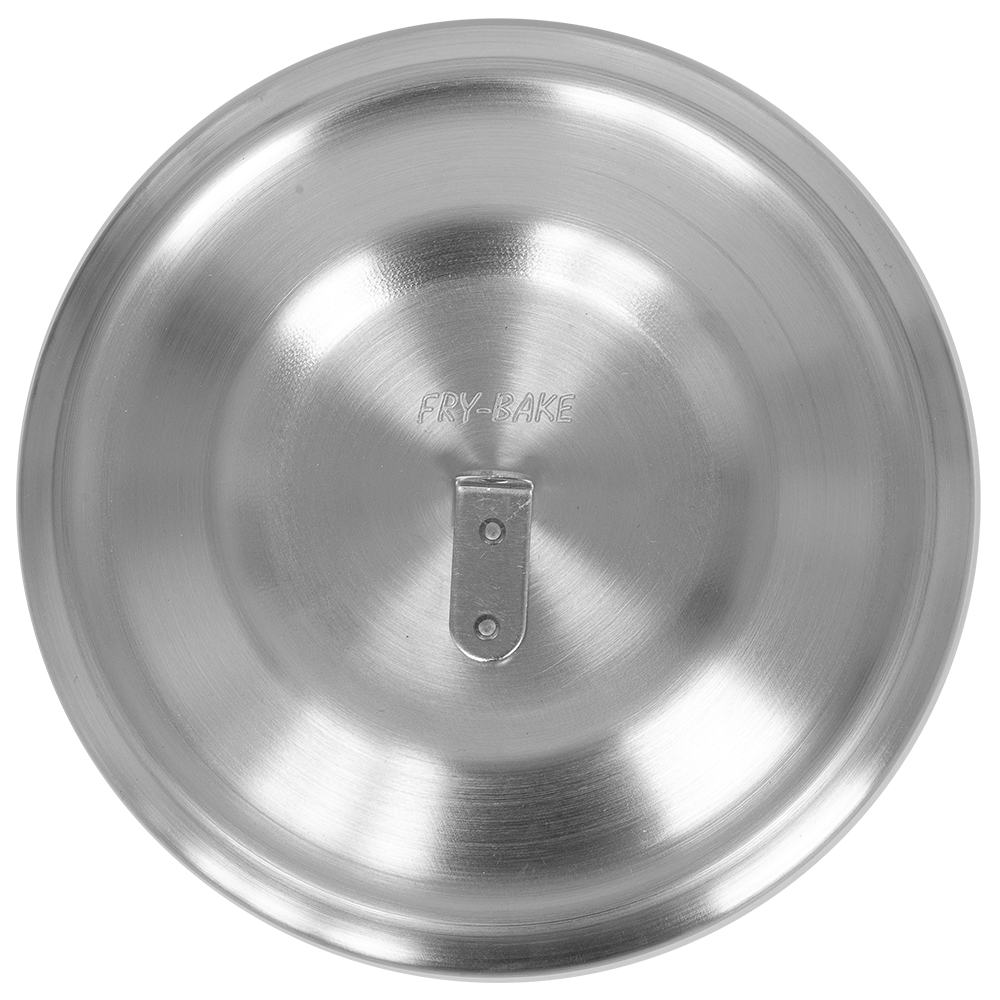 Standard Lid
"L" shaped bracket with two rivets for lifting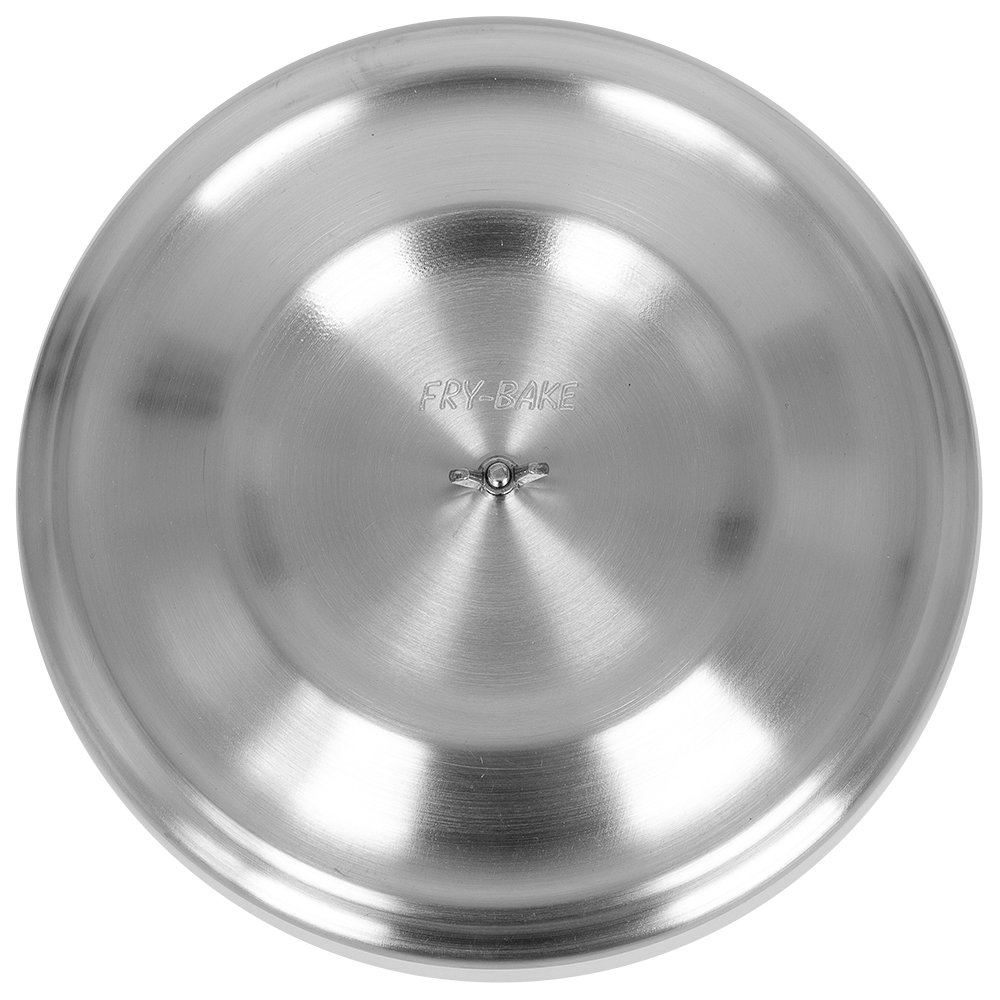 NOLS-Style Lid
Wingnut on a bolt through a single hole in the center
A. The standard lid has an "L" shaped bracket riveted with 2 rivets to the lid for lifting it and the NOLS style lid has a wingnut on a bolt through a single hole in the center of the lid. The lids are made of the same material and weigh the same. The "L" shaped bracket can get bent back and forth enough times that it breaks and thus NOLS prefers a wingnut which will never break. The average Fry-Bake user should not have any problem with the tab breaking as long as care is taken to not bend it. Most damage is caused in transit rather than when in use. The "L" shaped bracket is a bit more versatile as it has a hole in it through which you can poke a stick or install an "O" ring or "S" hook.
Q. How do I clean my Fry-Bake ?
A. The first step in cleaning a Fry-Bake is to soak with water if possible then use your spatula, spoon or other blunt, preferably metal edge to clean any residual food on the surface of the pan. Scrub cooking surface with some sort of abrasive scrub pad or object such as a handful of grass, twigs, or river sand and water. If the food that you have cooked was greasy, you will want to use soap to remove old cooking oils. NEVER wash in automatic dishwasher as surface will oxidize due to the caustic nature of the automatic dishwasher soap. Do not use oven cleaner on this product.
For more information about caring for your new pans, visit our Care and Use page.
Q. What is the volume of the Fry-Bake ?
A. The Expedition model Fry-Bake will hold 10 cups (2.4 liters) when full. The Deep Alpine 6 cups (1.4 liters) The regular Alpine holds 3 cups (0.7 liters)
Q. Do the pans nest together ?
A. The Deep Alpine pan fits inside the Alpine pan at the base but has greater height than the Alpine. The Alpine set nests completely inside the Expedition set.
Q. What can I do to prevent burning food due to a hot camping-style stove burner?
A. If you are looking to purchase a good, lightweight heat diffuser to deal with excessive burner heat, we recommend this fantastic titanium heat diffuser from Four Dog Stove, another small USA business.
If you are a do-it-yourself-type person, you might want to try this DIY scorch-buster recommended by Backcountry Exposure.
Q. What do I do if my Fry-Bake pan got run through an automatic dishwasher?
A. Automatic dishwasher soaps are highly caustic to the hard coat surface of Fry-Bake pans and to the luster of the Fry-Bake Lids. Your pan will still be functional, but you might want to heat the pan in a hot (380° F) oven after coating the entire surface lightly with oil. Each time you thereafter use the pan, the oils that you use will help restore the surface cooking quality.
Q. What is your Return Policy?
A. Since the seller cannot control conditions or method of use, no warranty or liability beyond the replacement of defective product is offered. If you are dissatisfied with your purchase you may return it at any time prior to your first use of the product for refund or exchange without prior approval. Please include original invoice if available. Your credit will be given to the payment method used at your original transaction.
Please pack for shipping so that parts do not rattle or rub together.
If exchanging, you will be charged the actual cost of shipping at the time of original purchase plus any additional shipping fees.
Ship to: Banks Fry-Bake Co., 202 Thielman Road, Hudson, NY 12534
Q. Where can I find more cooking information?
A. For more cooking information refer to :
• The NOLS Cookery available through NOLS
• The NOLS blog
• Fry-Bake on YouTube see Backcountry Exposure
• Backcountry Cuisine Tasty Meals for Off Grid Dining by Valerie L. Askren published by 42nd Parallel, LLC (2022)
• Cooking the One Burner Way by Melissa Gray and Buck Tilton published by ICS Books, Inc., (1994)
• Wilderness Cuisine by Carole Latimer published by Wilderness Press (1991)
• The Portable Baker by Jean and Sam Spangenberg published by Ragged Mountain Press (1997)
• Backpacker Backcountry Cooking by Dorcas S. Miller published by The Mountaineers Books, available at Mountaineers Books (1998)
• Backpacker More Backcountry Cooking by Dorcas S. Miller published by The Mountaineers Books, available at Mountaineers Books (2002)
Also, you'll find dozens of Fry-Bake videos on YouTube.