Dave Freeman uses Deep Alpine
Dave and Amy Freeman have used Fry-Bakes on their paddle and sail journey from Ely, MN to Washington DC and on their year in the Boundary Waters to raise awareness of the environmental threat to this area. They posted a review of their gear at GearJunkie with these words :
"We use a Deep Alpine most of the time…With a little practice you can bake just about anything you would bake at home."
"True backcountry foodies deserve a pan built for serious cheffing, like the Fry-Bake…..you don't have to baby this pan."
– Gear: Field Notes, October 2013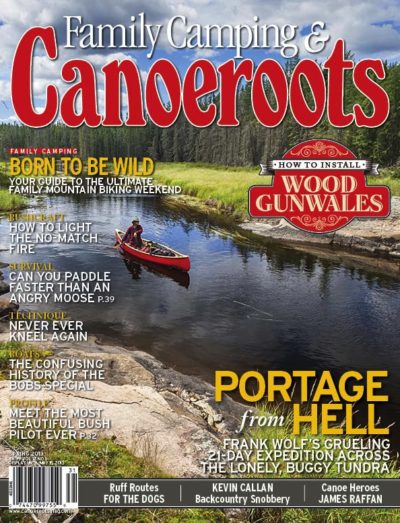 "Prepare everything from bacon to birthday cakes with this 10.5-inch anodized aluminum modern equivalent to a Dutch oven."
– Michael Mechan, Spring 2013
Expedition model Fry-Bake in your camp kit.
– Page 41, Spring 2013
Check out the October 2012 issue. Fry-Bake is featured as one "Essential" of The Things You Carry.
– Page 114, October 2012
The Pan That Started A Revolution
A 34 year history of Banks Fry-Bake in use at NOLS.; "The Banks Fry-Bake frying pan has accompanied NOLS students on over 6,500 courses around the world since its creation in 1979. From piping hot pepperoni pizza to delectable delicacies like cinnamon rolls and cherry pies, students have been pushing the limits of what's possible in some of the most wild and remote areas on the planet." Download the pdf.
– Jared Steinman, WMI Equipment Assistant, Fall 2011
Wetfoot Staff at Manito-Wish
"Enter the Banks Fry-Bake. This lightweight, anodized aluminum grace-of-all-things tripping has brought the backpacker cinnamon rolls, biscuits, pineapple upside down cake, deep dish pizza, Mexican cornmeal pie, and various other mouthwatering delights while simultaneously sparing the backpacker a trip to the chiropractor upon their return home."
Advantages:
The 10.5" Fry-Bake weighs less than 29 oz–half the weight of a 10" GSI Dutch Oven.
It provides a great baking AND frying surface thus eliminating the need for a fry pan.
The Fry-Bake is also available in an 8" model for those traveling in smaller groups.
Field Edition by Claudia Pearson published by National Outdoor Leadership School (2010)
The Boundary Waters Journal
"Baking used to be problematic for us. Aluminum cookware didn't yield the results we needed, and we didn't want to carry a heavy Dutch oven. About ten years ago, however, we discovered the Banks Fry-Bake pan, a lightweight pan that features a tight-fitting top which allows it to be placed in a fire or covered with coals for baking. The pan can also be washed with abrasives like sand or scrub pads as well as used with metal utensils without damaging its no-stick surface." Download the pdf.
– Page 63 Canoe CountryCuisine Eating Well In The Wild by Dave Foley, Spring 2009
NOLS Fall 2008 ArticleTesting Backcountry Cooking Temperatures. "When you're sitting in camp at the end of the day…lighting your stove and digging out your Fry-Bake…" Download the pdf.
– Recipe Box How Hot is Hot? by Elisa Hitt, Fall 2008
Steaming hot, fresh from the oven; quick and easy guide to back country baking. Download the pdf.
 "A tight fitting lid is a must….that's why we like the Banks Fry-Bake."
– Page 94 Skills: Your Daily Bread, December 2003
Mens Journal Article May 2012…cook brownies, pizza or even a quiche…cleaning up even elaborate campfire feasts takes no time at all… Download the pdf.
– Page 108, Accessories: Base Camp Deluxe, May 2002
"The Banks Fry-Bake Pan is a modern-day equivalent of the cast-iron or cast-aluminum Dutch oven. At 10 ounces (Alpine model) and 29 ounces (Expedition model) it is far, far lighter than traditional Dutch ovens that weigh 4 to 7 pounds or more. The Fry-Bake pan is made of tough, scratch-resistant anodized aluminum. You can use the pan as you would a Dutch Oven, placing coals below and above (the lid is designed to accommodate embers).
Or, you can place the pan on a cookstove and build a small twiggy fire on top of the lid to achieve the oven effect. Because of the heat source from above, you get a nicely browned crust. The Fry-Bake pan serves as a frying pan and is a worthwhile investment for backpackers and paddlers alike.
The key is to monitor the heat. … " 
by Dorcas S. Miller published by The Mountaineers Books (2002)
For real culinary extravagance (pizza, cinnamon rolls, birthday cake, etc) you'll want the Banks Fry–Bake, a lightweight anodized aluminum Dutch oven, that is as durable as it is functional … Download the pdf.
– Page 114, The Base Camp Gourmet, April 2001
 "The simplicity of the Fry-Bake makes it a stand-out, and the quality of its baked goods can't be beat."
– Mary McClintock, June 2000
Cooking with Claudia "There's no substitute for a Banks Fry-Bake….use it to sauté, fry or bake."
– August 1998