Cookbooks
The following cookbooks offer a variety of breakfast, dinner, bread and dessert recipes utilizing Fry-Bake pans.
Backcountry Cuisine
Great cookbook for those who like to prepare as much of their own ingredients for their outdoor cooking as possible. Over 130 recipes with "at home" and "on the trail" elements to create gourmet like meals that are actually quite easy to prepare.
Whether you buy all of your ingredients at the grocery store or grow them in your own garden and process and dehydrate them yourself, you'll find some excellent recipes, tips and advice to enliven your meals in the outdoor setting.
"Although these (Fry-Bake) pans function as great skillets, their real beauty lies in their baking capabilities."
– Valerie L Askren, published by 42nd Parallel, LLC
Copyright/publication date: 2022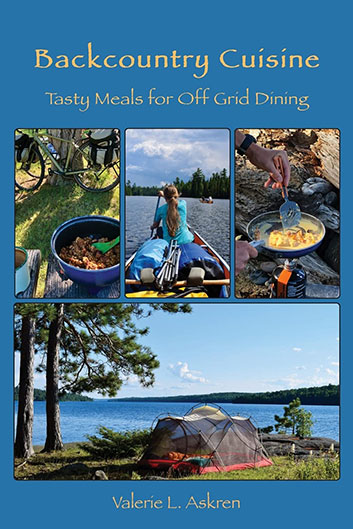 The NOLS Cookery: Field Edition
The popular NOLS Cookery is now available in a portable, sturdy edition that's perfect to pack into the backcountry. The field edition includes essential nutrition and cooking techniques and favorite NOLS recipes carefully chosen and all field tested. NOLS recipes and trustworthy culinary advice are guaranteed to please the palate and provide the energy needed for strenuous outdoor activity.
64 recipes plus variations–easy to display while cooking
Breakfasts, dinners, breads, and desserts
Yes, that's a Fry-Bake pan on the cover!
Claudia Pearson, published by National Outdoor Leadership School, 2010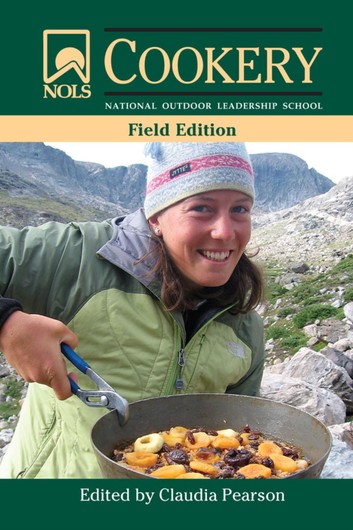 More Backcountry Cooking
"The Banks Fry-Bake Pan is a modern-day equivalent of the cast-iron or cast-aluminum Dutch oven. At 10 ounces (Alpine model) and 29 ounces (Expedition model) it is far, far lighter than traditional Dutch ovens that weigh 4 to 7 pounds or more. The Fry-Bake pan is made of tough, scratch-resistant anodized aluminum. You can use the pan as you would a Dutch Oven, placing coals below and above (the lid is designed to accommodate embers). Or, you can place the pan on a cookstove and build a small twiggy fire on top of the lid to achieve the oven effect. Because of the heat source from above, you get a nicely browned crust. The Fry-Bake pan serves as a frying pan and is a worthwhile investment for backpackers and paddlers alike."
Dorcas S. Miller, published by The Mountaineers Books, 2002
Backcountry Cooking: From Pack to Plate in 10 Minutes
Tasted, tested, and trouble-free from the editors of Backpacker magazine and other outdoor experts, this book includes over 144 recipes, along with expert, trail-tested advice on how to plan and pack simple, delicious meals, plus culinary tips from trail veterans. 50 photos. 100 illustrations.
Dorcas S. Miller, published by The Mountaineers Books, 1998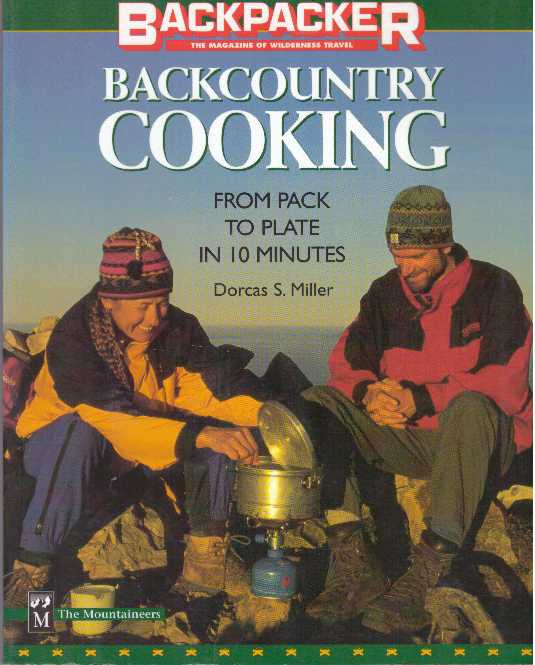 The Portable Baker: Baking on Boat and Trail
The Spangenbergs offer 120 recipes for yeast and quick-breaddelectables, including breads, biscuits, scones, coffee cakes, and sweet breads. Recipes include quantities for both fresh and dry ingredients, as well as substitution lists and nutritional guidelines.
"This is a baking pan that truly lives up to its claim of great construction and ease of use. This product is built to last…it is an excellent pan and one I do not hesitate to recommend highly."
Jean and Samuel Spangenberg, published by Ragged Mountain Press, 1997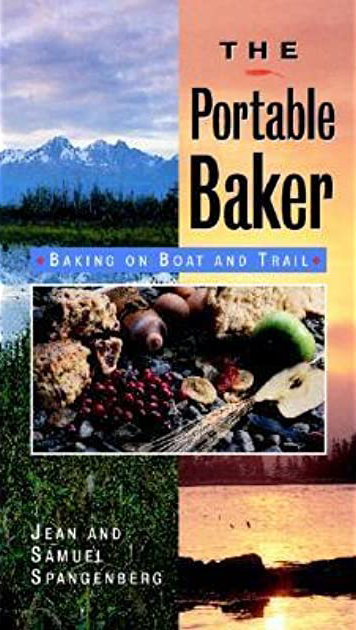 Cooking the One Burner Way: Great Cuisine for the Backcountry Chef
Gear for the Outdoor Kitchen
As every cook and carpenter know, one of the big secrets of a great product is using the right tool for the job. In the backcountry, gourmet meals can be prepared with a minimum of simple cooking gear, but it should be thoughtfully chosen for maximum chef-ness.
Our favorite is the Banks Fry-Bake Pan, an aluminum pan with an anodized hardcoat for easy cleaning and great durability. The snug-fitting lid allows you to build a twiggy fire on top if baking requires one…"
Melissa Gray and Buck Tilton, published by ICS Books, Inc., 1994
Wilderness Cuisine: How to Prepare and Enjoy Fine Food on the Trail and in Camp
"I use the Banks Fry-Bake Pan. It's designed for the mini-oven method of baking and is a quality piece of equipment. It can give baking results like a real oven, and it doubles as a frying pan. It's a heavier gauge aluminum pan with a tough, stick-resistant anodized coating that you can use with metal utensils. It comes with a rigid, domed lid. You build a twig fire on the lid and turn your stove down to simmer to create a mini-oven. Once you get the hang of it, it bakes delicious biscuits, brownies, yeast breads, pizza, quick breads, and casseroles. This baking system is faster and uses far less fuel than the water-temperature baking method…."
Carole Latimer, published by Wilderness Press, 1991
---